TOEFL Prep Courses in Madrid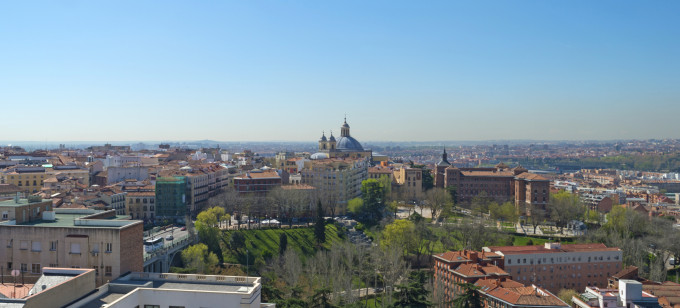 In an increasingly interconnected world, the importance of being bilingual, at the very least, is becoming more and more apparent. In Madrid, it is simply not enough to be fluent in Spanish alone. This is particularly true for prospective college students, medical professionals and some immigrants looking to obtain their visas, who have to the Test of English as a Foreign Language, or TOEFL, to prove their mastery of the English language. However, mastering English does present its own challenges, especially for those who are under pressure to learn the language in a specific timeframe. Manhattan Review can help!
Since 1999, Manhattan Review has been providing students, professionals, and immigrants all over the world, including Madrid, with state-of-the-art TOEFL test prep. With an exceptional staff and professional tutors, and a library of tools and resources, including interactive online courses and practice tests that mimic the real TOEFL, Manhattan Review has the perfect a la carte program to help anyone master the English language. Regardless of how you learn or how fast, our a la carte TOEFL test prep program will suit you, because it is customizable by the students. That's right, you get to develop your own learning plan based on your own individual learning styles and time constraints, which is precisely why students do so well on the TOEFL and thereafter.
At Manhattan Review, we don't just prepare students, professionals, and immigrants to do well on the TOEFL, the knowledge and skills we impart are and can be applied in your academic and professional lives as well. Our past participants enjoy many benefits of being associated with our top-notch test prep, including getting accepted into all the top schools in Madrid such as the Technical University of Madrid, Charles III University of Madrid, Ray Juan Carlos University, and Francisco de Victori University. They also have gone on to get hired at all the top companies in Madrid, as well.
There are no boundaries for those who are both bilingual in English and Spanish in Madrid, and Manhattan Review TOEFL test prep can help you get there.

Great Course! The structure and framework for negotiating will be helpful going forward.
- Greg (This student took our Negotiation and Decision Making Seminar.)
Madrid
Phone: +34-911-876-504

Primary Course Venue:

Sheraton Madrid
Calle Alfredo Marquerie 43
28034 Madrid
Spain

NOTE: We do NOT typically have staff at the venue, so email us before visiting the venue.
Meet a Madrid TOEFL Tutor: Daniela E.
Although Daniela was born and raised in the United States, growing up in central Florida near Miami, for her, it was a foregone conclusion that she would learn and become fluent in Spanish. So, in addition to becoming quite the academic success story, acing both the SAT and GRE so that she could attend Florida International University on a full scholarship, she also worked to help native Spanish language speakers to master the English language. While attending Florida International University, Daniela received an opportunity of a lifetime to go study abroad in Madrid and so she did. She fell in love with the city and decided to make it her new home.
After graduating from Florida International University with her degree in Finance, Daniela started working for a major financial institution in Madrid when she met a colleague who was working with a tutor from Manhattan Review in preparation to take the TOEFL. Daniela was impressed with Manhattan Review and decided to join our team of elite professional tutors to help other prospective students, professionals and immigrants master English. That was nearly seven years ago, and Daniela still remains just as vital to our successful TOEFL test prep program as she was when she first began to tutor for us. One of the primary reasons that our students love working with Daniela is because her unique experiences as an American living in Spain have afforded her a perspective that is both valuable to them and refreshing.