TOEFL Prep Courses in Knoxville (Tennessee)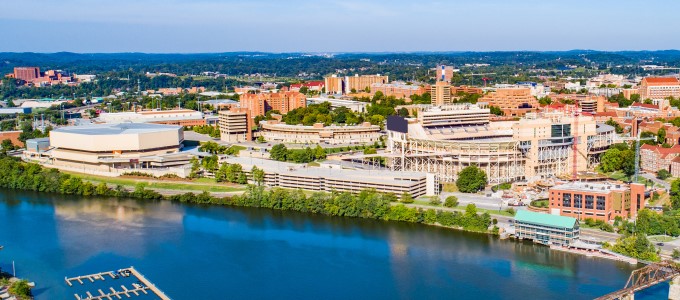 Manhattan Review is excited to offer Knoxville area residents efficient and effective services for the Test of English as a Foreign Language (TOEFL). Since 1999, Manhattan Review has been helping to prepare students around the world for the TOEFL and other standardized tests needed for admission to the most elite institutions in the world. From the beginning, we have made it a point to work with international students, which has led to a deep understanding of the specific needs to address in preparing TOEFL students to meet high standards of language competency. We know that people have different learning and scheduling needs, so we are happy to offer many options for our clients to choose from. For those who work better in discussion with a dynamic group of individuals, headed by an experienced professional, one of our group courses is for you. If you thrive in-person, we offer on-site courses. Others need the flexibility that an eCourse has to offer. We provide interactive online courses to help mitigate any transportation or scheduling conflicts. Other students find that they need the customization and laser focused attention from an instructor that only private tutoring can provide. For those students we have experienced professionals ready to help you develop a personalized learning plan and work you through any difficulties. These offers are also available either in-person or online. To top it off, we also offer true-to-life practice exams and consultation services. To learn more about our TOEFL services, contact Manhattan Review in Knoxville today via phone, email, or through our website.
We always advise our clients to first look at the TOEFL requirements of the university or program of their choice to get a clear picture of their goals in preparation for the exam. There is not one passing score of the TOEFL, so you will need to know the requirements to gain entrance to your chosen program. While the requirements are important to know, it is also important to look into the average scores of the incoming class. Top universities receive thousands more applications each year, which means that the average score of the accepted student is higher than at a less selective school. If you cannot find an average TOEFL score for the incoming class of the program you are researching, you should generally aim for a higher score than the requirement to help shore up your application.
Manhattan Review is proud to have helped our past clients consistently meet the English language standards of highly selective institutions in the United States, where the TOEFL is the most widely accepted assessment of English competency. Our past TOEFL students have been accepted to top schools such as Brown, Princeton, Yale, Harvard, the University of California at Berkeley, the Massachusetts Institute of Technology, California Institute of Technology, University of Virginia, University of North Carolina at Chapel Hill, Georgetown, and many more. Not only does the language skills acquired during TOEFL prep serve our students in their testing goals, but it transitions to their future, enabling them to pursue careers at companies that conduct business in English. Former Manhattan Review students have been hired by Fortune 500 firms and by businesses in Knoxville, including Wells Fargo, Prudential Financial, Netflix, Discovery, Inc., Tennessee Valley Authority, and Oak Ridge National Laboratory, to name a few. Start becoming a stronger test-taker and a better English speaker today with Manhattan Review's TOEFL prep courses and TOEFL private tutoring in Knoxville.

She is great! She is able to involve all the participants. She is clear, and she always keeps the attention of the class.
- Matteo (This student took our Columbia Business School Communication and Culture boot camp.)
Knoxville
Primary Course Venue:

Manhattan Review Prep
Hyatt Place
530 S Gay St.
Knoxville, TN 37902

Phone: (212) 316-2000

NOTE: We do NOT typically have staff at the venue, so email us before visiting the venue.
Meet a Knoxville TOEFL Tutor: Anna A.
Anna A., a native of Haarlem, came to the US from the Netherlands to study English literature at New York University. She met her husband while living in New York and moved with him to Knoxville where he works at the Oak Ridge National Laboratory. She went on to earn her master's in teaching English to speakers of other languages and has worked with students in the Knoxville area since. Having taken the TOEFL herself, she understands what is expected of students and the challenges that English language learners face.
Anna's students appreciate that she has a shared experience with them as well as the expertise they need to improve their English skills. She knows the importance of immersion, and she lets her students know the expectations she has in order to make the most gains. When Anna is not working with students, she likes to travel and learn about cooking traditional foods from other cultures.