IELTS Prep Courses in Knoxville (Tennessee)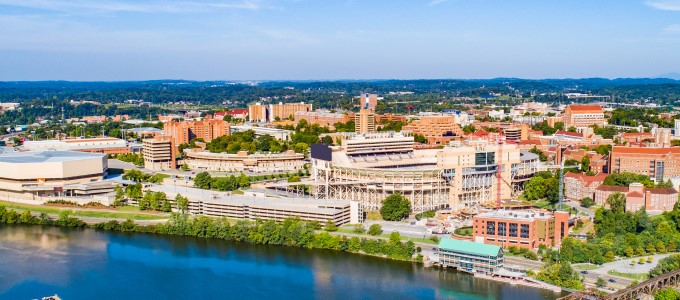 Knoxville students who are planning to take any of the International English Language Testing System (IELTS) assessments have access to Manhattan Review's various course and resource offerings. You can choose from on-site group courses, online interactive group courses, on-site or online private tutoring, practice tests, and consultation services. Whatever option you choose to go with, we know that any of these can help Knoxville students efficiently and reliably reach your test score goals. From our inception, Manhattan Review has kept international students in mind. We have extensive experience preparing students outside of English-speaking countries prepare for English and American standardized tests to gain admission to some of the most elite institutions in the world. To learn more about our offerings and which would be best for your learning and scheduling needs, please contact us today via phone, email, or contact us through our website.
The IELTS and the Test of English as a Foreign Language, or TOEFL, are the two major exams used by English-speaking universities to assess English language competency. While the TOEFL is an American exam, the IELTS is a British exam, and is therefore preferred at many universities based in the United Kingdom. Many universities will accept either the IELTS or the TOEFL, but it is important to research this first to be sure that the IELTS is the exam you should be preparing for. If your program or programs of choice accept either exam, we suggest taking a practice exam of both the IELTS and the TOEFL to see if you clearly perform better on one of the exams. While they both have the stated goal of assessing English language competency, they are slightly different in their approach. For example, on the TOEFL, speaking skills are evaluated using audio recordings, while the IELTS implements an in-person interview. Once you have decided which test is best for you, Manhattan Review will be happy to place you in one of our courses or with one of our private tutors.
Manhattan Review has helped clients prepare for the IELTS who went on to be accepted to many selective universities in the United States, United Kingdom, Australia, Canada and beyond, including Harvard, Oxford, the University of London, Yale, Cambridge, Dartmouth, the University of Virginia, Vanderbilt, the University of Toronto, and the University of British Columbia. Our students know that English language is not only important for their educational prospects, but it carries over to professional opportunities. Our students eventually become successful professionals working for Fortune 500 companies, including Prudential Financial, Wells Fargo, New York Life Insurance, Microsoft, and Johnson & Johnson. Others have gone on to join top companies in the private and public sector in Knoxville including Tombras Group, Regal Cinemas, Discovery, Inc., Tennessee Valley Authority, and Oak Ridge National Laboratory. Become a more proficient speaker of English and conquer the IELTS with Manhattan Review's IELTS prep courses and private tutoring for residents of Knoxville.
Knoxville
Primary Course Venue:

Manhattan Review Prep
Hyatt Place
530 S Gay St.
Knoxville, TN 37902

Phone: (212) 316-2000

NOTE: We do NOT typically have staff at the venue, so email us before visiting the venue.
Meet a Knoxville IELTS Tutor: Sam T.
Sam T. moved to Knoxville after graduating with his Bachelor's degree in Spanish from Wake Forest University. During his time in college, he spent time studying abroad in Guatemala, where he taught some of the residents English in his spare time. He is looking to become a Spanish teacher and currently works as a translator at a publishing company.
Sam has spent his tutoring time in Knoxville using his lived experience in a Spanish-speaking country as a way to relate to his students, and also as a way of demonstrating how immersing his students in the language they are trying to learn is a great way to ensure that they pick it up more quickly. Sam's students appreciate that he is flexible while maintaining academic rigor. In his spare time, Sam likes to hike and ski.