TOEFL Prep Courses in Kiev (Ukraine)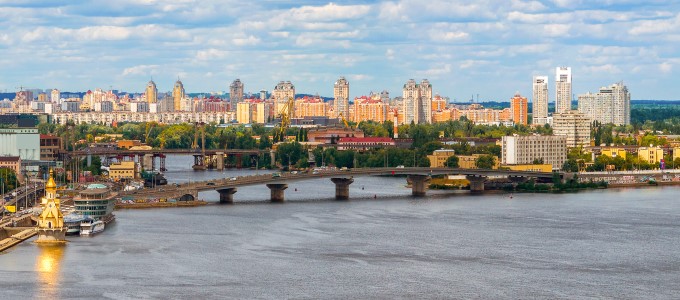 Students living in Kiev can improve their Test of English as a Foreign Language (TOEFL) scores and communication skills, regardless of previous English study or native language, via Manhattan Review's TOEFL services. Manhattan Review's TOEFL learning options in Kiev include online TOEFL prep classes, individual TOEFL instruction, and virtual TOEFL classes in online interactive format. We are also the top local vendor for authentic TOEFL practice tests, which are invaluable assessment tools. Manhattan Review students learn how to master TOEFL reading, writing, speaking, and listening exercises through engaging methods of instruction, comprehensive course syllabi, and the industry's most effective course materials. Manhattan Review is a highly experienced international test prep company that has been facilitating academic success for students around the world since 1999. We've taught TOEFL prep to students from almost every country on the planet and from almost every native language. We can show you how to develop the language skills that lead to passing TOEFL scores and integration into your university's academic and non-academic community.
Although TOEFL scores are not formally classified by ETS, concordances have been established with the concise descriptors for the IELTS, the other major English language exam. According to these concordances, TOEFL scores may be classified as follows: 118-120 (expert), 110-117 (very good), 94-109 (good), 60-93 (competent), 35-59 (modest), 32-34 (limited), and 0-31 (extremely limited). We are not aware of any universities that require scores at the expert level, and only a select few expect very good TOEFL performance (the University of Oxford, with its minimum score requirement of 110, is a notable exception). Almost every highly selective university will be satisfied with scores in the good range (which usually means a total score of 100 and sectional scores of 25 each). Many universities, especially those that are less selective, will admit students who are in the lower portion of the competent range. Before beginning TOEFL study, international university applicants should make sure that they understand the TOEFL requirements associated with their chosen degree offerings.
Manhattan Review's TOEFL private tutoring and TOEFL prep courses in Kiev and in cities around the world have helped countless students begin undergraduate or graduate degree programs at world-class schools such as Oxford, Cambridge, University College London, the London School of Economics, the University of Edinburgh, the Massachusetts Institute of Technology, Harvard, the University of Pennsylvania, Carnegie Mellon, Johns Hopkins, Columbia, Yale, Stanford, the University of California-Berkeley, the University of Michigan, the University of Chicago, and the University of Virginia. Our TOEFL instruction has also helped our clients establish themselves as professionals after they finish their degrees. Numerous former Manhattan Review clients are now valuable employees of Fortune 500 companies and firms in Kiev, including Exxon Mobil, Prudential Financial, Express Scripts Holding, New York Life Insurance, Dow Chemical, APEKS-BANK, ESTA Holding, Aeros, Ukraine International Airlines, and Ukrainian Automobile Corporation. Start building your successful future right away with Manhattan Review's TOEFL prep courses and TOEFL private tutoring in Kiev. We'll help you boost your language skills and self-confidence.

The lessons are well-structured. The presentation session is very helpful. The instructor is very friendly and responsive to students' questions.
- Sanido (This student took our Columbia Business School Communication and Culture boot camp.)
Kiev
Primary Course Venue:

Hyatt Regency Kiev
5 A Tarasova Street
Kiev 01001, Ukraine

NOTE: We do NOT typically have staff at the venue, so email us before visiting the venue.
Meet a Kiev TOEFL Tutor: Ashton F.
Ashton F. was born and raised in Harrisburg, Pennsylvania, and both of his parents were secondary school teachers. Education is in his blood, and teaching has always been his main ambition. He completed bachelor's and master's degrees in education at the University of Pennsylvania and Pennsylvania State University respectively, and then began his career as a secondary school teacher.
Ashton first became interested in TOEFL instruction during his last year of graduate school, and he now has over nine years of experience teaching TOEFL prep in classroom and private tutoring learning formats. Seeking a new adventure, he moved to Kiev in 2017, and has grown to love the city. His favorite leisure activity is watching sports, especially baseball and (American) football.