TOEFL Prep Courses in Ithaca (New York)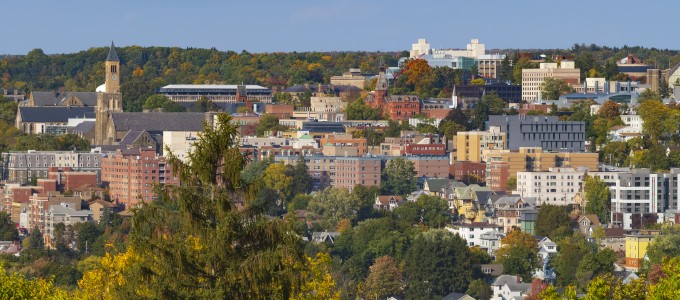 ESL students looking to help themselves to prepare for the Test of English as a Foreign Language, or the TOEFL, may find that the process of learning the English language is a difficult one and they require some form of study assistance to ensure a higher score on the day of the test. Students in the Ithaca area looking for assistance with the TOEFL exam should look to Manhattan Review for the best TOEFL preparation methods. Students in and out of Ithaca have translated the guidance that Manhattan Review has given them into a wide variety of benefits since 1999. Students who choose to work with Manhattan Review for the process of preparing for the TOEFL exam have the ability to use any combination of group courses, private tutoring, and practice exams that they think is appropriate to ensure that they get the most out of their course of study.
Students who work with Manhattan Review for the process of preparing for the TOEFL exam also have access to a wide variety of benefits that allow them to get the most out of their preparation. Students who work with Manhattan Review have the ability to take their group courses or private tutoring either in-person or online depending on what they think is the best way to study for the exam. Manhattan Review's instructors have many years of experience with helping Ithaca students learn the English language to prepare for the TOEFL, and the practice exams that Manhattan Review provides for the exam are updated on an annual basis to reflect the exam's current formatting and content. Students who work with a Manhattan Review private tutor can adjust their lesson plan as needed to ensure proper coverage of the exam topics, and students who work with one of Manhattan Review's in-person private tutors can work with them at any mutually convenient location in the Ithaca area.
ESL students who have used Manhattan Review for the process of preparing for the TOEFL exam have managed to develop a stronger grasp of the material covered on the TOEFL, better test-taking and tine management skills, and a generally stronger grasp of the English language that has served them well in contexts outside of academia and the TOEFL exam. Students who have worked with Manhattan Review for their TOEFL exam preparation have managed to translate the guidance that they have been given into acceptance at a wide variety of schools in and out of the Ithaca area, including Harvard, Yale, Stanford, Penn State, UCLA, University of Chicago, New York University, Columbia, Cornell, Ithaca College, Oxford, Cambridge, Emory, Brown, and many others. Students have also managed to use their improved skills in the English language to help with the process of attaining employment in various careers thanks to their academic backgrounds. Call or email one of Manhattan Review's academic program advisors today to learn more.

The accent reduction section is very effective.
- Nan (This student took our Columbia Business School Communication and Culture boot camp.)
Meet an Ithaca TOEFL Tutor: David Y.
David Y. has helped a wide variety of ESL students in the New York area with the process of learning the English language for exams such as the TOEFL and IELTS. He has also helped them learn the English language in other contexts because of his own background as an ESL student, and works as both a group course instructor and private tutor in the Ithaca area for Manhattan Review.
Thanks to his own background with learning English as a second language in his own right, David has a complete understanding of the importance of fully immersing his students in the English language, so they pick it up as they go along in the study process. He spends his free time learning other languages outside of his native language of Spanish.