TOEFL Prep Courses in Hamburg (Germany)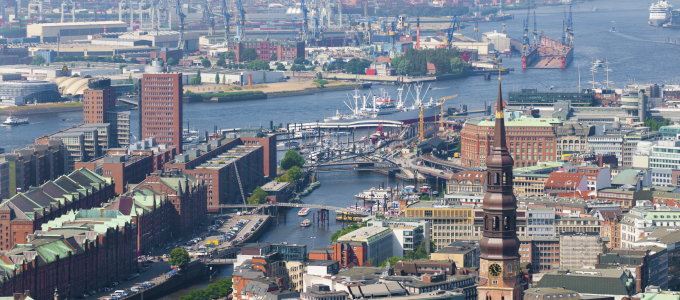 Applicants to undergraduate and graduate programs at universities in the English-speaking world must typically demonstrate English-language proficiency by taking the Test of English as a Foreign Language (TOEFL). Manhattan Review is an international test prep company that offers a variety of TOEFL services in Hamburg. Local students can benefit from our on-site TOEFL prep classes, private TOEFL tutoring, online TOEFL prep courses, and TOEFL practice tests. Manhattan Review has been producing high standardized test scores and selective university acceptance for thousands of students in Europe, Asia, North America, and Australia since our company was established in 1999. Founded by a business school professor and immigrant to the United States, Manhattan Review created test prep services specifically for the international student population, which other companies were largely ignoring. Developed over many years in conjunction with cutting-edge pedagogical research, our TOEFL prep offerings are results-driven, methodology-flexible, and international student-friendly. Find out more about how we can help you pass the TOEFL by contacting us today.
The fact that a passing score is all that is necessary makes the TOEFL unlike other standardized tests. Students derive no additional benefits from exceeding the minimum TOEFL standards of their chosen institutions. An undergraduate applicant to George Washington University, for example, need only achieve that institution's minimum score of 90. Further TOEFL preparation beyond this would be time and effort better spent elsewhere. Manhattan Review's TOEFL tutors and instructors understand this as well as anyone, and can orient their teaching around any desired TOEFL score level. Some students wish to attend Ivy League schools, where a TOEFL score of 100 is a necessity, and we can help them. Others, however, desire acceptance to a good school with a more flexible approach to the TOEFL, such as Boston University (84 for most undergraduate and graduate programs), New York University (92 for undergraduates), or SUNY Buffalo (79 for graduates and undergraduates). We can accommodate these students as well.
Manhattan Review's TOEFL clients have been accepted to world-class institutions such as the University of London, the University of Oxford, Harvard University, Princeton University, Dartmouth College, and the University of Edinburgh. They have completed degrees in numerous academic disciplines and at all post-secondary levels, which have prepared them to competitively enter the job market. Our former TOEFL clients have accepted positions at General Motors, Energy Transfer Equity, American Airlines Group, New York Life Insurance, Northrup Grumman, and numerous other Fortune 500 companies. Hamburg firms have also hired our past students (Maritime Circle Line, Deutsche Presse-Agentur, HSH Nordbank, and Hamburger Edition, to name only a few). With Manhattan Review's TOEFL prep courses and private tutoring, you can get started today on receiving the education that produces a lifetime of success.

The accent reduction section is very effective.
- Nan (This student took our Columbia Business School Communication and Culture boot camp.)
Hamburg
Primary Course Venue:

Radisson Blu Hotel
Marseiller Strasse 2
20355 Hamburg, Germany

NOTE: We do NOT typically have staff at the venue, so email us before visiting the venue.
Meet a Hamburg TOEFL Tutor: Evgeny K.
Evgeny K., a native of Moscow, Russia, has been a TOEFL tutor since 2008. He holds bachelor's, master's, and doctoral degrees in history, all from the University of California Los Angeles. He wrote his doctoral dissertation on serfdom in mid-19th century Russia, and is currently expanding his research into a book. He has lived in Hamburg for the past two years, and is an editor at a local academic press.
Evgeny has taught TOEFL prep to students in Los Angeles, San Francisco, and Hamburg, and his TOEFL students have come from over 40 countries. Among the schools to which his students have been accepted are Harvard, Columbia, New York University, and the University of Chicago. In his spare time, Evgeny is a fitness fanatic. His exercise routine is constantly changing and evolving, but it currently includes rowing, bodyweight strength training, and yoga.