TOEFL Prep Courses in Glendale (Arizona)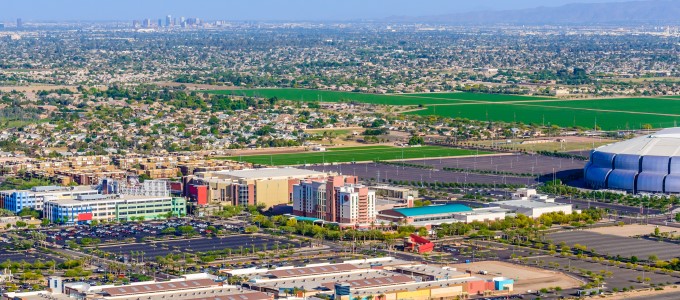 or an increasing number of non native English speakers, the Test of English as a Foreign Language, or TOEFL, is one of the biggest challenges that they must face during the application process for many colleges and universities; medical licensing and certifications; and residential and work visas. Implemented by admissions boards and agencies all around the world, the TOEFL is specifically designed to test English proficiency, which is necessary for accomplishing many academic and professional goals. However, in order to achieve those academic and professional goals, a high score on the TOEFL is necessary to gain acceptance into the schools and agencies that require proof of mastery of the English language. With the help of Manhattan Review's top-rated TOEFL test prep courses, you will receive the necessary tools and resources to reach your TOEFL testing goals.
For over 15 years, Manhattan Review has been at the forefront of the test prep service industry, helping non native English speakers, just like you, to acquire the requisite foundation to reach their best TOEFL test score. Specifically, our state-of-the-art program gives our participants the opportunity to create a learning plan that is custom designed to their to reflect their own learning styles and needs, which is particularly appealing to our non native English speakers who may not be confident in their test preparation skills. As a result, Manhattan Review is able to help participants of all learning styles, no matter what their background in test-taking may be. Participants who are more responsive to one-on-one interaction within a traditional classroom setting are encouraged to enroll in our private TOEFL tutoring with one of our elite private tutors, while participants on the other end of the learning style spectrum who are more responsive to an independent learning environment are encouraged to enroll in our interactive online courses, which are readily accessible from any location through our secure online portal. All of our participants, however, are given access to our supplemental learning materials, particularly our TOEFL practice tests, which are proven to dramatically increase our participant's TOEFL test scores over other test-takers year after year.
In Glendale, no other test prep consultant service better prepares non native English speakers to achieve success on the TOEFL as well as provide them with the foundation to achieve their personal, academic, and professional goals like Manhattan Review. As a results, all of the top colleges and universities are always eager to accept Manhattan Review's TOEFL test prep participants. Namely, Glendale Community College, the Thunderbird School of Global Management at Arizona State University, and Midwestern University have all stood behind the work of our team of experts at Manhattan Review by continuing to accept our TOEFL test prep participants over all other applicants to their respected programs. Similarly, the top employers in Glendale such as Banner Health System, Arrowhead Hospital, CSAA/AAA, Honeywell Aerospace, Humana Healthcare, Empereon Constar, Ace Building Maintenance Co., Bechtel Corporation, Conair Corporation, Arrowhead Mall, Wal-Mart, Westgate, Tanger Outlets, and Sanderson Ford are also big supporters of both Manhattan Review and our TOEFL test prep participants because of our dedication to developing Glendale residents, no matter what their goals are. Choose the best in the business for your TOEFL test prep needs. Manhattan Review's industry-leading TOEFL test prep consultant service will help you master the English language. Call or email today to get started.

My classes with Mr. Scheno were perfect to prepare for the actual TOEFL test – I can give my total recommendation for attending his classes. During our first appopintment he analyzed my strengths and weaknesses to set up my personal course syllabus. These customized classes improved my writing, speaking, reading and listening abilities a lot and raised my confidence to succeed the TOEFL test, which I in fact succeeded. At any time, Mr. Scheno responded rapidly and accurately to my questions and was available even beyond classes. It was a great and successfull experience to work with Mr. Scheno. Many thanks!
- Mirco (This student took TOEFL tutoring)
Glendale
Primary Course Venue:

Manhattan Review GMAT GRE LSAT Prep
Glendale Teaching Center at the Hampton Inn
7350 N Zanjero Blvd
Glendale, AZ 85305

Phone: (623) 207-9057

NOTE: We do NOT typically have staff at the venue, so email us before visiting the venue.
Meet a Glendale TOEFL Tutor: Lexie H.
Before joining our team of elite private tutors at Manhattan Review, Lexie enjoyed a meteoric rise to success despite overcoming academic adversity in grade school because of struggling to become proficient in English. As the child of two immigrants who both had to learn English upon moving to America, Lexie not only had to learn English, but also master it in order to achieve her academic and professional goals. With the help of a dedicated language teacher, who later became a mentor and friend, Lexie was able to able to excel academically, which then led to her getting accepted into one of the best business schools in the state of Arizona, the Thunderbird School of Global Management, where she excelled before accepting a job offer from one of the top companies in Glendale.
Within just seven years, Lexie was promoted to a senior level manager position at the corporate office of one of the top retailers in the country. It is her combined experience as a former middle manager and now a member of leadership that has given Lexie the opportunity to demonstrate her ability to develop talent. At Manhattan Review, Lexie employs her mentoring skills in the classroom to help to develop up and coming talent in Glendale as part of our TOEFL test prep consultant services. An inspiration to our non native English speaking participants, Lexie is trusted by our TOEFL test prep students, which helps facilitate their acceptance of her aiding them in the learning process. It is because of elite private tutors like Lexie that Manhattan Review continues to lead the test prep service industry with unprecedented TOEFL test prep consultant services.