TOEFL Prep Courses in El Paso (Texas)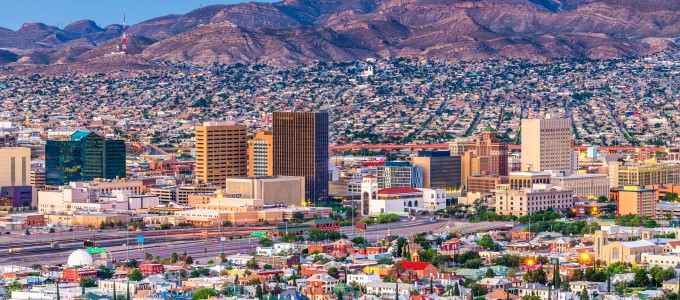 When searching for the Test of English as a Foreign Language (TOEFL) preparation courses and private tutoring, you have to look no further than Manhattan Review. For more than 20 years, we have been preparing students all over the world for the standardized assessments needed to access English-speaking postsecondary programs throughout the world. Manhattan Review specializes in international students, as we are located not only throughout the United States and North America, but in countless cities in Europe, Asia, and Africa. We have developed materials and methods to help students unlock the TOEFL and achieve the high percentile scores they need to enter into elite programs in English-speaking countries.
For students located in El Paso, we are proud to offer an array of courses which will best meet your needs. Whether you are hoping to improve your English overall or trying to improve your TOEFL scores, we are ready to collaborate with you to create a plan that will best meet your needs. We offer TOEFL practice tests, which will give you an experience as close to the real thing as possible, building confidence and helping to pinpoint areas of weakness which we can strengthen over time. We also offer a variety of courses, from on-site or online small group courses to on-site or online private prep instruction. Depending on your learning style and scheduling needs, we can help you choose which option best suits you. Contact Manhattan Review in El Paso today to learn more about our TOEFL services. Let's work together to better understand which of our TOEFL options is the right choice for you.
While TOEFL requirements vary by university, there is a strong correlation between minimum TOEFL scores and institutional selectivity. Top programs around the world are receiving more applications every year. Often times, mere points could make the difference between being considered in comparison to other applicants. We also advise our students to aim higher than the stated minium score a university may give. While this is the minimum they will accept, they are having to make distinctions among hundreds, or even thousands, of qualified candidates, and those who have just reached the minimum score they will accept are no longer considered. For example, at the University of Texas at Austin's Institute for Cellular and Molecular Biology, the minimum requirement for the internet based TOEFL is 80, however, the average score reported was 104. Set yourself up to compete and stand out amongst the best students around the world. Invest in yourself today by ensuring you have the scores needed to be considered for the most elite programs the English-speaking world has to offer.
The TOEFL is the preferred Engish assessment used by universities in the United States. Manhattan Review's TOEFL prep clients consistently earn top percentile scores and apply to the top programs in the US. TOEFL students have been accepted to top schools such as University of Texas at Austin, the University of Virginia, the University of North Carolina at Chapel Hill, Yale, Brown, Princeton, Harvard, the University of California-Berkeley, Georgetown, and many more. The language skills acquired and improved upon during TOEFL prep aid our students for a lifetime, allowing them to pursue careers at companies that in conducting business in English. Former Manhattan Review students have been hired by Fortune 500 firms and by businesses in El Paso, including General Motors, Prudential Financial, Western Refining, Raytheon, AT&T, Boeing, Charles Schwab, Verizon Wireless, and a variety of exciting civilian opportunities with the US military. Start becoming a better English speaker and a stronger test-taker today with Manhattan Review's TOEFL prep courses and TOEFL private tutoring in El Paso.

My classes with Mr. Scheno were perfect to prepare for the actual TOEFL test – I can give my total recommendation for attending his classes. During our first appopintment he analyzed my strengths and weaknesses to set up my personal course syllabus. These customized classes improved my writing, speaking, reading and listening abilities a lot and raised my confidence to succeed the TOEFL test, which I in fact succeeded. At any time, Mr. Scheno responded rapidly and accurately to my questions and was available even beyond classes. It was a great and successfull experience to work with Mr. Scheno. Many thanks!
- Mirco (This student took TOEFL tutoring)
Meet a El Paso TOEFL Tutor: Thomas A.
Thomas comes from a very international background, which has informed his outlook and teaching. With a Columbian mother and a French father who worked in oil and gas, Thomas was actually born in Houston, Texas before moving back to Columbia and southern France during his childhood. He returned to Texas to attend the University of Texas at Austin, where he studied biology and also played for UT's tennis team.
He now works at William Beaumont Army Medical Center in El Paso, and for the past 4 years has joined Manhattan Review as a TOEFL and IELTS instructor. His pupils enjoy his dynamic personality and his own experience with learning multiple languages. When he isn't working with his students, you can find him playing singles Tennis or travelling to visit his family around the world.