TOEFL Prep Courses in Durban (South Africa)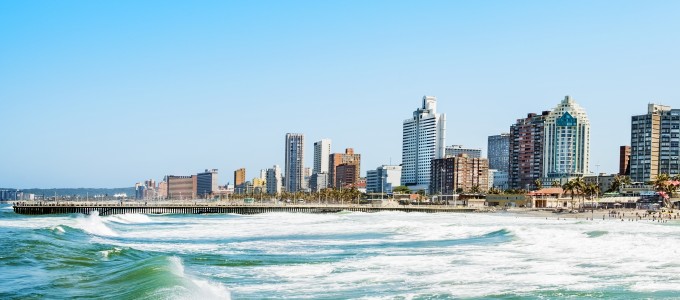 Are you a Durban-based student seeking to obtain the highest score possible on the Test of English as a Foreign Language (TOEFL)? If you are searching for the most effective and comprehensive TOEFL prep services, look no further than the standardized test professionals at Manhattan Review. At Manhattan Review, we are proud to offer world-class TOEFL preparation, providing you with everything you need to demonstrate your mastery of the English language as you move forward in your academic and professional goals. If English is not your first language or you are not a native English speaker, you will want to take advantage of every available test prep resource to ensure you achieve the success you deserve on this potentially life-changing exam. At Manhattan Review, we are pleased to offer a variety of test prep options designed to fit every learner and every learner's schedule, including classroom-style group courses, interactive online instruction, and one-on-one private tutoring. Our experienced instructors have deconstructed and analyzed every section of the TOEFL, and they are eager to guide you to your own test-taking success. Our study syllabus remains unsurpassed in the test prep industry, and if you hope to achieve the highest score possible on the TOEFL, let the respected experts at Manhattan Review support you across all your test preparation needs.
When it comes to preparing for the TOEFL, one of the best ways to accelerate your learning is by working with a professional instructor. When you partner with an expert educator who is familiar with all aspects of this important test, you take your academic future into your own hands. There is no point in leaving any aspect of test preparation up to chance or attempting to piece together your own study program that you hope covers all the relevant material. At Manhattan Review, our instructors are excited to help you achieve your own individual success, and they are ready to help you master the most helpful test-taking strategies, ensuring you are prepared and confident on the day of your exam. Whether you have been preparing for the TOEFL for a while now or have only just begun to consider how you will prepare, our experts will meet you where your learning has taken you and show you how to go farther than you ever imagined. Our dedicated professional tutors have taken the guesswork out of preparing for the TOEFL, and they can guide you to obtaining the test score you need to attend the college or university program of your dreams. We encourage you to contact us today to learn more about our highly regarded test prep options and find out which one is right for you and your test-related needs.
The TOEFL is a standardized test designed to measure the English language abilities of non-native speakers seeking to enroll in an English-speaking university. This test is accepted worldwide by over 11,000 universities in more than 190 countries. The TOEFL consists of a group of tests, the most popular of which are the TOEFL iBT and the TOEFL Essentials. The TOEFL iBT requires 90 minutes to complete, whereas the TOEFL Essentials is more rigorous and requires three hours to complete. The TOEFL is composed of four sections—reading, listening, speaking, and writing. A score on the iBT version of the test will fall in the range of 0 to 120, while a score on the Essentials version of the test will range from 0 to 12. Many universities require proof of English language proficiency, and the most selective universities expect to see a TOEFL iBT score over 100. While every college varies in its specific requirements, the importance of a high TOEFL score cannot be overstated. In order to be competitive for the highest-ranking academic programs, it is imperative to demonstrate a strong performance on the TOEFL.
If you are a student planning on attending an English-speaking college or university and are not a native English speaker, there's no reason to leave anything to chance or waste your already limited time attempting to create your own study plan. Here at Manhattan Review, we have retained the services of instructors who have extensive experience with standardized tests, having obtained their own high scores, but our tutors are not only gifted test-takers…they are gifted educators with strong backgrounds in teaching and learning theory. We have given our sought-after instructors a unique preparatory method that has helped countless students around the world master the TOEFL and continue on to unprecedented individual success. Contact us today to learn more about our TOEFL prep programs and see how we can help you turn your dreams into achievable goals the same way we've helped countless other future university students.
Manhattan Review has been the leader in standardized test prep materials and resources since 1999, and we take great pride in pairing our clients with just the right service for them. Whether you enjoy learning in a classroom-style setting surrounded by your peers, require the scheduling flexibility offered by interactive online instruction, or desire a customized and personalized study plan delivered one-on-one through private tutoring, whatever your learning- and test-taking needs, there's a place for you at Manhattan Review. For those students who are not native English speakers, the TOEFL is an important part of applying to English-speaking university programs, and the test preparation services at Manhattan Review are intentionally designed to help you master the TOEFL and demonstrate your knowledge of the complicated English language. Those students who work with our respected and experienced test prep professionals consistently go on to attend the most competitive colleges and universities, including Yale University, Stanford University, Duke University, the University of Cambridge, Harvard University, the University of Pennsylvania, New York University, Columbia University, Cornell University, Johns Hopkins University, the University of California at Los Angeles, the University of Southern California, Oxford University, the University of Chicago, the University of North Carolina at Chapel Hill, the University of Texas at Austin, and elsewhere.
When you work with a professional educator, you can unlock your potential and achieve the success you deserve, regardless of which university you plan on studying at or what you intend to major in. We are proud to offer Durban's most student-friendly, flexible, and results-focused resource for TOEFL preparation. Our patient and personable instructors are experts at simplifying complex concepts. They will help you identify the most effective ways of retaining and recalling information while using state-of-the-art test-taking strategies to ensure you achieve your highest score. When it comes to preparing for the TOEFL, there is no such thing as being too prepared, and by partnering with respected test prep professionals, you can be assured nothing will be left to chance or overlooked in the preparation process.
Students in and around Durban know just how competitive the college application process has become, and if you are planning to study at a prestigious undergraduate or graduate program, you will need impressively high TOEFL scores to demonstrate your mastery of the English language, as well as your readiness to learn in this language at the collegiate level. Our TOEFL prep courses are offered during daytime, evening, and weekend hours, and our classes are offered in-person, as well as online. Together, we can ensure you have mastered the necessary material and are ready to take the TOEFL, earning yourself the academic success your hard work deserves. Contact us today to learn more about the highly regarded TOEFL preparation available through Manhattan Review, and we look forward to supporting you along your academic journey.

She is great! She is able to involve all the participants. She is clear, and she always keeps the attention of the class.
- Matteo (This student took our Columbia Business School Communication and Culture boot camp.)
Durban
Primary Course Venue:

Hilton
12-14 Walnut Road
Durban 4001
South Africa

NOTE: We do NOT typically have staff at the venue, so email us before visiting the venue.
Meet a Durban TOEFL Tutor: Alan M.
Alan M. was born in Singapore and lived there for the first ten years of his life. "I was equal parts excited and nervous when I found out my dad's company was transferring him—and by extension, me and the rest of my family—to the United States," shares Alan. "I was sad to leave my friends and extended family but also excited to meet new people and try new foods." As a child, Alan loved to pretend he was a teaching instructor to his three younger siblings. "I basically just taught them anything I was studying in school," he laughs, "and some of it was way too advanced for them, but I loved feeling like I was helping them, and I hoped to someday have a career as an educator." Alan worked very hard to master the English language in his new home, and by the time he reached high school, he was involved in a variety of extracurricular activities including student government, varsity cross-country, and helping to build sets for the Theater Club. He also played the cello, participated in fundraisers designers to raise awareness about climate change, and volunteered as an ESL peer tutor in his large and diverse school's learning lab. Alan worked hard to obtain impressive grades in his advanced placement classes and, combined with a very high ACT score, his hard work was rewarded with numerous offers of admission to colleges across the United States. Alan ultimately chose to attend New York University "because I'd always dreamed of seeing New York," he admits with a grin.
During his undergraduate study, Alan continued working part-time as a tutor and after graduating with a major in education, he obtained a graduate degree in teaching and a TESOL certificate from Columbia University. After working in the New York public school system for a few years, Alan was offered an exciting position with an international organization focused on helping children around the world learn the English language. He packed his suitcase and spent the next ten years traveling and teaching all across the world, living in countries such as Bali, South Korea, Japan, and Thailand. While Alan loved meeting new people and felt passionately about the educational work he did, after a decade without a permanent home, he decided it was time to put down roots and remain in one place for more than a year or two.
Alan accepted a position at a private school in Durban, and he welcomed the chance to visit a new continent and country, quickly feeling right at home thanks to kind and welcoming neighbors. When a colleague told him about an opening with Manhattan Review's Durban office, Alan applied and, given his impressive teaching background, he was welcomed to the team with open arms. Alan is a naturally gifted instructor, but he works hard to stay on top of the newest developments in education, as well as the latest research on the most effective teaching strategies and methodologies. His students appreciate his extensive experience, as well as his ability to adapt whatever he happens to be teaching to their level of knowledge. "It's such a pleasure to help students prepare for the TOEFL," says Alan, "because I know they've taken the first step towards obtaining their own education and developing their own exciting career." When he isn't guiding future college students to TOEFL success, Alan can be found enjoying samosas from his favorite street food vendor, visiting family back in Singapore, and hosting board game nights with friends.