IELTS Prep Courses in Durban (South Africa)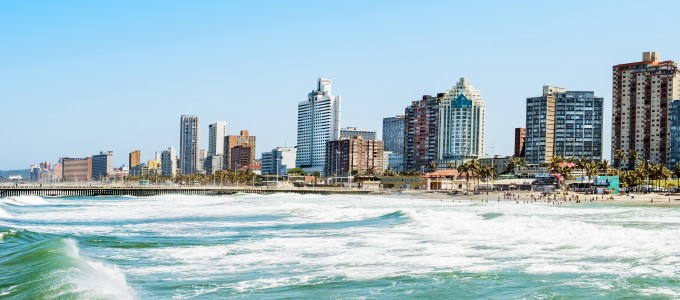 Are you a Durban-based student seeking to obtain the highest score possible on the International English Language Testing System (IELTS)? If you are searching for the most effective and comprehensive test preparation resources, look no further than the standardized test prep experts at Manhattan Review. If you plan on attending an English-speaking college or university and English is not your first, or native, language, you will need to demonstrate your proficiency with this language, and your ability to learn in it, prior to being admitted. While obtaining an impressively high IELTS score might seem overwhelming or impossible, there is no need for you to prepare for this potentially life-changing exam on your own. Rather than wasting your valuable and limited time attempting to piece together a study program you hope covers all the relevant material, let the experienced test prep professionals at Manhattan Review guide you to the test-taking success you deserve. Our experienced test prep experts have deconstructed the IELTS and know just how to help you obtain the score you need to make your college dreams come true. We are pleased to offer classroom-style group courses, interactive online sessions, and one-on-one private tutoring, ensuring there is always a prep option that works for you and your schedule. Whether you have been preparing for the IELTS for a while or have only just started thinking about preparing, our world-class instructors will meet you where your learning has taken you and show you how to go farther than you ever imagined.
While any new language can be tough to learn, English is a notoriously difficult language to grasp and requires conversational interaction far beyond simply reviewing flashcards of English vocabulary words. At Manhattan Review, we are proud to offer Durban's most student-friendly, flexible, and results-driven IELTS test prep program, with options that are sure to be right for you and all your test-prep needs. When you partner with Manhattan Review, you receive access to our industry-leading preparatory materials, as well as our extensive study syllabus, designed to provide you with everything you need to excel on the IELTS. You also receive the opportunity to learn and practice the most useful test-taking techniques and strategies under the guidance of experienced and knowledgeable professional educators. We have taken all the guesswork out of preparing for the IELTS, and our instructors are eager to share our unparalleled study syllabus with you. Our world-class educators have obtained their own impressive standardized test scores and have first-hand experience with a variety of standardized tests, including the IELTS, but we do not only hire exceptional test-takers…we hire exceptional instructors with strong backgrounds in teaching and learning theory. Our tutors are ready to help you identify your unique learning style, in addition to showing you how to leverage the academic strengths you already possess while teaching you ways of overcoming any areas of weakness that might negatively impact your IELTS score.
The IELTS is one of two major exams used by universities in the English-speaking world to assess English language competency (the other exam is the Test of English as a Foreign Language, or TOEFL). The IELTS is a British examination, and it is therefore favored by many universities in the United Kingdom. The TOEFL is an American test, and many U.S. colleges favor it over the IELTS. A number of postsecondary institutions in both the United States and the United Kingdom, however, will accept either the IELTS or the TOEFL, and we advise all of our test prep clients to verify the English requirements of their preferred undergraduate or graduate program. If you have a choice between the IELTS and the TOEFL, the best solution is to try practice versions of both tests, ultimately favoring whichever one is easier for you. It is important to note that there are some clear differences between the two tests…speaking skills, for example, are evaluated by audio recordings on the TOEFL and by in-person interviews on the IELTS.
The IELTS is graded on a scale of 1 to 9, with higher scores reflecting a better understanding of the English language and a stronger ability to communicate effectively in this language. Schools such as Harvard, Stanford, MIT, and Caltech require a minimum IELTS score of 7 in order to obtain admission to undergraduate programs, although incoming students routinely have scores higher than this. Most colleges and universities in the United Kingdom and the United States suggest an IELTS score of 6 to 7 in order to be considered competitive for admission.
At Manhattan Review, we have designed a variety of standardized test prep options to ensure there is always one that will work for you and your learning needs. We have used our extensive experience in the test prep industry to help students just like you work to their full potential, obtaining the test scores they need to make their collegiate dreams an exciting reality. Whether you prefer learning alongside other students, require the flexibility of online instruction, or prefer the customized learning only available through private tutoring, we have an option that's just right for you. In addition to helping you master effective strategies to improve your IELTS score, we also offer tried-and-true methods of reducing any test-related anxiety you might experience, ensuring you are confident and prepared on the day of your exam. Our in-demand professional educators have created a specialized test prep method that is both comprehensive and targeted, helping numerous students gain admission to the leading English-speaking colleges and universities including New York University, Columbia University, MIT, Johns Hopkins University, Duke University, American University, Georgetown University, Harvard University, the University of Chicago, the University of Southern California, Stanford University, the University of Washington, Northwestern University, the University of Pennsylvania, the University of North Carolina at Chapel Hill, Cornell University, Oxford University, the University of Cambridge, the University of California at Los Angeles, Princeton University, and elsewhere.
If you are a motivated student seeking to take your IELTS preparation to the next level, look no further than the test prep options available through Manhattan Review. We offer courses and tutoring during daytime, evening, and weekend hours, and our instructors are available to meet in-person or virtually, depending on your schedule. We look forward to guiding you to test-taking success the same way we have helped countless students across Europe, Asia, the United States, and around the world. We have offered world-class test prep instruction since 1999, and we are proud to have retained the services of the brightest and most committed teachers. At Manhattan Review, we understand the importance of attending a college with instant name recognizability, but the most prestigious universities are also the most competitive, with the luxury of being highly selective when it comes to admissions. If you plan to attend a top-tier English-speaking college or university, set yourself up for the success you deserve and make use of every possible advantage in preparing for the IELTS. While grades, essays, and involvement in extracurricular activities are always important, an impressive IELTS score will never fail to open important academic doors. The best way to obtain a stellar IELTS score is to partner with the leading test prep professionals at Manhattan Review. We encourage you to contact us today to learn more about our IELTS prep options, and we look forward to partnering with you on your journey to personal and professional success.
Durban
Primary Course Venue:

Hilton
12-14 Walnut Road
Durban 4001
South Africa

NOTE: We do NOT typically have staff at the venue, so email us before visiting the venue.
Meet a Durban IELTS Tutor: Abasi G.
Abasi G. was born in Durban and lived there for the first ten years of his life. When his mother obtained a job with the United Nations, the family had the opportunity to move to the United States, and while Abasi was excited, he also dreamed of one day returning to his home country and making a difference in the lives of South African citizens. Abasi loved music from an early age and was thrilled when he was able to take piano lessons after moving to New York City. "I'd grown up in a family that spoke English," he explains, "but I was so shy, sometimes I couldn't speak even though there was plenty I wanted to say. Music allowed me to communicate in a way that didn't require language." Abasi's mother took his education very seriously and encouraged him to be involved in a wide variety of clubs and organizations at his new school. By the time he started high school, Abasi had grown much more confident, playing the piano during school musicals, competing in speech and debate contests, and serving in various officer roles in student government. He also volunteered as an ESL tutor through his school's peer tutoring program, surprising himself with how much he enjoyed helping others master the English language he'd been fortunate to learn.
Thanks to his impressive grades, extracurricular activities, and a very high ACT score, Abasi earned numerous offers of admission from colleges across the United States. He ultimately chose to attend the University of Pennsylvania, where he majored in music and minored in education. He also continued to work as a tutor in his university's learning center. After graduating, he obtained a master's degree in teaching from American University, along with a TESOL certificate. "I wanted to find a way to combine my love of music with my desire to help people find their own paths to success," he shares, "and I couldn't think of a better way than helping them learn English." Abasi joined an international organization focused on improving the musical education of underserved students around the world. In addition to helping children learn to play musical instruments, Abasi also helped them begin to master the English language. He spent more than a decade traveling around the world and living in places such as Thailand, Bali, South Korea, Kenya, and Botswana before returning to South Africa.
Deciding he wanted to remain in one place for longer than a year or two, Abasi accepted a position as a music teacher at a local school. Still wanting to help others succeed as he had, he was thrilled when he learned about the Manhattan Review office in Durban. He quickly submitted an application, and we were thrilled to welcome him to the team. Abasi's students appreciate his multilingual fluency almost as much as his ability to make learning English fun. "Everyone deserves the chance to make their dreams come true," smiles Abasi. "And once you've done that, then it's up to you to use your skills and knowledge to help others. It's all about paying it forward so everyone can succeed." When he isn't helping future college students prepare for their own collegiate success, Abasi can be found attending concerts, playing drums in a local band, and watching the beautiful South African sunsets with his wife and young son.