TOEFL Prep Courses in Dublin (Irland)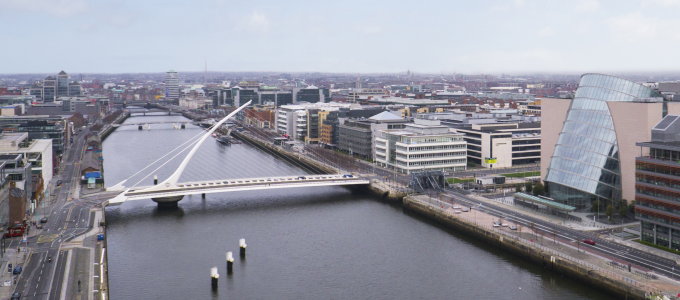 As a non-native English speaker, it is not uncommon to be expected to take the Test of English as a Foreign Language, or TOEFL, to either advance professionally or enroll in an accredited college or university. The same is true for immigrants who seek a work or residential visa. Designed as one of the most widely used test of English proficiency, the TOEFL is also an opportunity for non-native English speakers to demonstrate their academic acumen and/or professional potential. Professional test prep services at Manhattan Review can help you achieve your testing goals.
Since 1999, Manhattan Review has been the industry leader in TOEFL test prep services all over the world, including in Dublin. Specifically, we offer non native English speaking prospective college students, medical professionals seeking licensing or certification, and immigrants who are seeking a work or residential visa, the opportunity to custom design their learning program according to their availability and learning styles in our boutique English proficiency test prep program. As a result, our students are able to option to either participate in our interactive online courses, which are accompanied by a myriad of tools and resources such as TOEFL practice tests, or they can option to utilize our elite professional tutors for one-on-one learning sessions. No other test prep program gives students the unprecedented access they need to achieve both English proficiency and a desirable score on the TOEFL like Manhattan Review.
In Dublin, all of the top colleges and universities stand behind the work that we do at Manhattan Review because over the years they have seen the quality students that we have shaped through our TOEFL test prep programs. Specifically, the Dublin Institute of Technology, the University of Dublin, Dublin City University, the Institute of European Affairs, the Dublin Business School, the Royal College of Surgeons, the National College of Ireland, the Institute of Public Administration, the Griffith College of Dublin, the Gaiety School of Acting and the New Media Technology College have all been the proud recipients of our TOEFL program participants because they know that we help shape the best and brightest individuals in the Greater Dublin Area. All of the top employers, such as Microsoft, Google, Amazon, eBay, PayPal, Yahoo!, Facebook, Twitter, Pfizer, Citibank and Commerzbank feel the same way as exemplified by their hiring Manhattan Review students every year.
At Manhattan Review we don't just give students the tools to become proficient in English, we also give them the tools to become academic and professional successes as well, making for a better Dublin.

The instructor is patient in his explanation, and he knows the topics really well.
- Chew (This student took our Columbia Business School Communication and Culture boot camp.)
Dublin
Primary Course Venue:

Hilton Dublin
Charlemont Place
Dublin 2, Ireland

NOTE: We do NOT typically have staff at the venue, so email us before visiting the venue.
Meet a Dublin TOEFL Tutor: Alana
Before Alana came to Manhattan Review in Dublin to join our team of elite professional tutors, she enjoyed a very fast paced career in the pharmaceuticals industry in the United States. However, when her husband, Jon, received a career opportunity of a lifetime, they both jumped at the chance to move to the Irish capital. And though the move was triggered by her husband's career, Alana's career also propelled as a result of the relocation to Ireland. It didn't take long for her to land a job with one of Dublin's top pharmaceutical companies, which she then followed with numerous promotions and professional achievements, particularly for her work in the community. In fact, it was her involvement in the Greater Dublin community on a work related project that she met someone who led her to Manhattan Review.
Over the last five years, Alana has played a pivotal role in our delivery of the top rated services that we are known for at Manhattan Review in Dublin. As a non native of Dublin, Ireland who has been so successful in a foreign land, she has much to offer her students in the way of knowledge and experience that she believes can help them to be successful in their chosen career path as well. Her students not only appreciate her knowledge and experience, but also her candor about it all. Not one to hold back when it comes to giving her students her all, Alana is known for her straight-to-the-point nature, but to the delight of her students, she is never abrasive or rude. To them, she is like a loving mother who gives tough love, when appropriate. At Manhattan Review we couldn't ask for a more invested private tutor than someone like Alana.