TOEFL Prep Courses in Dallas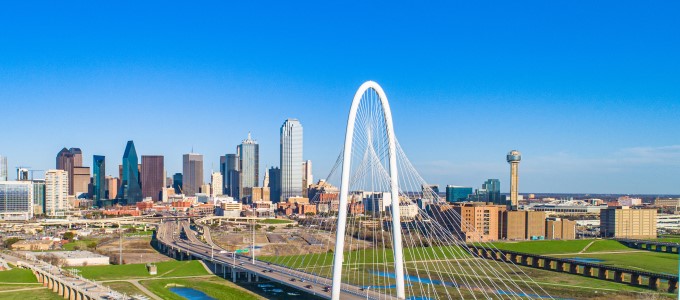 TOEFL Preparation in Dallas (Texas)
If you are studying for the TOEFL near Dallas, you're probably doing your best to brush up on reading comprehension and grammar rules. At Manhattan Review, we've made it easier to master this English language exam, even if your proficiency is still in progress. Let's work together to make sure your communication skills translate to a high score on this standardized exam.
Improve your university applications with scores that showcase your language fluency. These educational entrance exams are intended to demonstrate your capacity to thrive on a college campus, which isn't possible without a proven grasp of English at U.S. schools. By strengthening your skills, you can ensure you gain entry into the best schools in Dallas and elsewhere in the United States.
Manhattan Review has been offering test prep services since 1999. We have broken down and reconstructed the TOEFL through our customizable course syllabus. With this learning plan, you can focus on this simplified approach to make your test prep stress-free and successful. Don't waste time trying to learn every in and out of language. Instead, let us show you what you can expect from the exam so you can score more points.
No matter what field of industry you are pursuing, we're here to help you achieve your goals and reach your full potential. Our past students have improved their TOEFL scores, later graduating from high-ranked programs to catapult their careers. If English is not your first language, you can count on us to help you overcome any obstacles. The majority of our TOEFL tutors in Dallas are bilingual or even multilingual, helping to bridge any gap in communication to collaborate effectively.
There is a long list of prestigious colleges and universities near the Dallas-Fort Worth region. Furthermore, Texas is chockfull of Fortune 500 companies eager to hire employees with higher education degrees. Get started with our full-length classroom courses, several sessions that you can sign up for online. If you prefer a virtual classroom, register for an Interactive Online Course to gain exposure to our top-rate course syllabus. If you'd prefer to work in a one-on-one setting, enlist the support of an experienced private tutor.
Make your language learning more accessible so you can continue your academic accomplishments. Get accepted at notable names like Dallas Baptist University, Southern Methodist University, Texas Wesleyan University, University of Dallas, University of North Texas, and many others.

The lessons are well-structured. The presentation session is very helpful. The instructor is very friendly and responsive to students' questions.
- Sanido (This student took our Columbia Business School Communication and Culture boot camp.)
Dallas
Primary Course Venue:

Manhattan Review GMAT GRE LSAT Prep
Dallas Teaching Center at the Sheraton
400 North Olive Street
Dallas, TX 75201

Phone: (214) 254-3620

NOTE: We do NOT typically have staff at the venue, so email us before visiting the venue.
Meet a Dallas TOEFL Tutor: Roberto P.
Roberto graduated from Brown University where he studied Mass Communications and Media. After college, he was eagerly recruited for hire by AT&T, which brought him to their Texas location. His proficiency in both English and Spanish made him a highly competitive candidate for this communications position.
Growing up in a bilingual household, Roberto's mother immigrated to the United States from Honduras back in the 1970s. Roberto was the oldest of seven kids, so he was never a stranger to helping with homework assignments and tutoring youngsters. This skill set has been a valuable addition to the TOEFL tutoring team in Dallas. Roberto is a skilled language instructor who helps make grammar and reading comprehension more accessible to a wider audience.
Aside from his professional pursuits, Roberto enjoys evenings at the Winspear Opera House, afternoons at White Rock Lake Park, and time home with his family of five.