IELTS Prep Courses in Cleveland (Ohio)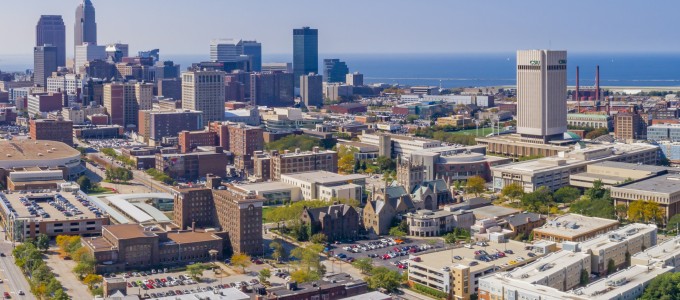 The International English Language Testing System (or IELTS) is not as commonly taken in the United States as the TOEFL exam, but an increasing number of ESL students are taking it and more universities are accepting it as a demonstration of capability in the English language. Students who are looking to prepare themselves for the IELTS exam in the Cleveland area should look to Manhattan Review for the best IELTS exam preparation options for Cleveland students. Manhattan Review has been helping students with the process of learning the material for the IELTS and other exams since 1999, and has the widest variety of options to help students in their course of study. Students who work with Manhattan Review for their IELTS exam preparation can take advantage of the group courses, private tutoring, and practice exams in any combination they see fit to help them get the most out of the study process.
Students who work with one of Manhattan Review's instructors will be working with an instructor who has many years of experience with helping ESL students learn the rules of the English language that they need for the exam, and students who take advantage of the practice tests will be working with tests that are updated on an annual basis to ensure that they have an accurate view of the exam's current formatting and content. Manhattan Review's group courses and private tutoring can be utilized either online or in-person depending on what the student feels would be best for them in their course of study, and students who work with an in-person private tutor can choose any location in the Cleveland area that is mutually convenient for the tutor and themselves to commute to and study. Students who work with one of Manhattan Review's private tutors also have the ability to adjust and customize their lesson plan as necessary to ensure they cover the material as they see fit.
Students who have taken advantage of the resources offered by Manhattan Review to help them with the process of preparing for the IELTS exam have gone on to achieve both a higher score on the day of the exam and a greater command of the English language which has served them well in many different fields. Students who have worked with Manhattan Review for their IELTS preparation have attended a wide variety of universities, including Cleveland schools such as Case Western Reserve University and Cleveland State University. Students who have worked with Manhattan Review have also attended schools such as Harvard, Yale, Oxford, Cambridge, Kenyon, University of Chicago, Stanford, Columbia, Brown, Emory, and many other universities that accept the IELTS. Students who have worked with Manhattan Review have also managed to translate their academic backgrounds and greater command of the English language into a variety of careers. Call or email an academic program advisor today to learn more about Manhattan Review's IELTS prep offerings.
Cleveland
Primary Course Venue:

Manhattan Review Prep
Hilton Cleveland Downtown
100 Lakeside Ave E
Cleveland, OH 44114

Phone: (212) 316-2000

NOTE: We do NOT typically have staff at the venue, so email us before visiting the venue.
Meet a Cleveland IELTS Tutor: Jason S.
Jason S. has been helping a wide variety of students with their preparation for standardized tests such as the TOEFL and IELTS since he graduated from Kenyon College with a Master's degree in education. He moved to the Cleveland area for work reasons and now helps students in the area with Manhattan Review as both a group course instructor and a private tutor.
When helping students with the IELTS exam, Jason believes that students should apply themselves to using English in as many ways as possible outside of the context of the exam. When he is not helping Manhattan Review students with the process of preparing for their standardized tests, Jason likes to spend his free time at the Cleveland Museum of Art and other museums in the area.