IELTS Prep Courses in Amsterdam (Netherlands)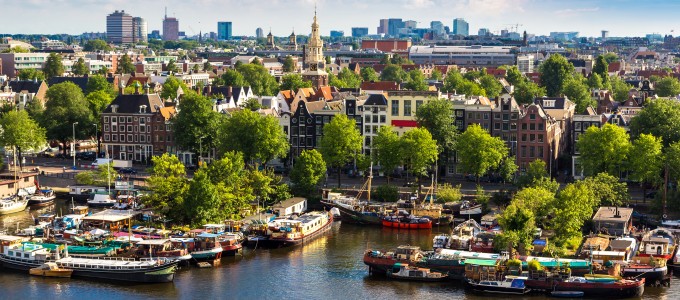 The International English Language Testing System (IELTS), also known as the International English Language Testing System, is a highly sought-after standardized exam for prospective university students who wish to enhance their proficiency in English and exhibit their language aptitude to academic establishments. The process can be pretty daunting for students who lack confidence in their English language proficiency. It is imperative to provide them with the necessary support to ensure optimal performance during the test. For students seeking top-notch IELTS preparation in Amsterdam, Manhattan Review offers unparalleled options for standardized test preparation in the region. We invite you to consider our exceptional services for an outstanding test-taking experience. Manhattan Review has assisted students in their IELTS preparation for over two decades. With our extensive range of study options carefully curated into convenient study packages, we offer students the flexibility and resources they need to excel in their IELTS journey. Manhattan Review provides many opportunities to students, including group courses and personalized tutoring tailored to their specific academic goals. Our range of services allows students to create a customized learning experience that aligns with their individual needs and aspirations.
By selecting Manhattan Review for IELTS preparation, students can avail themselves of many advantages that will facilitate their journey toward mastering the English language and completing the exam. Manhattan Review offers group courses and private tutoring services that cater to the needs and preferences of each student. Our programs aim to provide the most effective and convenient learning experience, in-person or online. Our private tutors even offer the flexibility to meet at the most convenient location for the student in the Amsterdam area. Manhattan Review's practice exams and study curriculums are meticulously revised every year to align with the latest formatting and content of the exam. Students who engage with our esteemed private tutors have the exclusive privilege of tailoring their curriculum to suit their requirements perfectly. This personalized approach ensures comprehensive coverage of the student's strengths and weaknesses, thus empowering them to excel on the crucial day of the IELTS test.
Those who have chosen to collaborate with Manhattan Review in their journey toward IELTS exam success have undoubtedly cultivated a profound command of the English language. This invaluable expertise has proven advantageous during the examination itself and in various scenarios demanding a heightened comprehension of English. By partnering with Manhattan Review, students have honed their mastery of the English language and gained access to prestigious institutions such as the Universiteit van Amsterdam and the Vrije Universiteit Amsterdam within the Amsterdam region, as well as world-renowned schools like Harvard, Yale, and Oxford, among numerous others. This compelling evidence attests to the transformative power of Manhattan Review's approach to English language learning and its capacity to open doors to academic and professional success. Students who have had the privilege of collaborating with Manhattan Review have effectively utilized their enhanced proficiency in the English language to secure employment opportunities at reputable organizations. Call or email one of Manhattan Review's academic advisors today to discover your IELTS prep options.
Amsterdam
Phone: +31-20-808-4399

Primary Course Venue:

Radisson Blu Hotel
Rusland 17
Amsterdam 1012 CK
The Netherlands

NOTE: We do NOT typically have staff at the venue, so email us before visiting the venue.
Meet an Amsterdam IELTS Tutor: Noud J.
Noud has been offering his valuable guidance to ESL learners, diligently helping them achieve their desired scores on various standardized assessments, including English language examinations such as the TOEFL and IELTS. Having successfully concluded his studies at Eindhoven University of Technology, he currently extends his expertise to students both within and beyond the vicinity through his association with Manhattan Review.
Noud employs a refined approach in aiding students to master the English language for exams like the TOEFL and IELTS. His carefully crafted methods immerse students in the language and provide flexibility, thereby ensuring a deep comprehension of the subject matter. This tailored approach equips students with the necessary skills to excel on exam day, enabling them to deliver an elite performance. During his leisure hours, he indulges in the harmonious melodies of the piano and immerses himself in mediating on the tulips in Keukenhof.